Exercise has a multitude of health benefits, and can improve the way you move, lift and manage your body weight. A personalised exercise program can be tailored to your specific needs and goals.
NDIS participants who are looking to improve their physical function and reduce their risk of chronic medical conditions can benefit from an accredited Exercise Physiologist.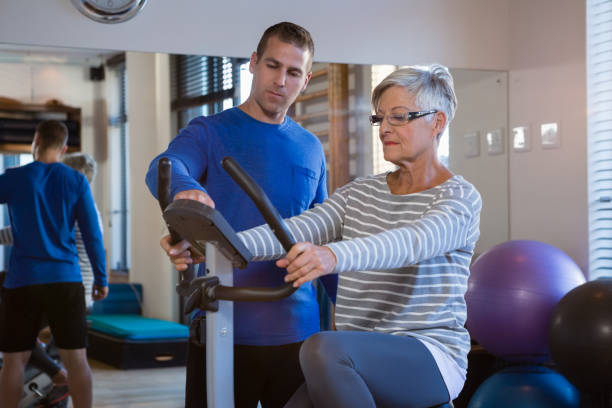 Improved Health & Wellbeing
Exercise physiologists are an essential part of the Improved Health & Wellbeing support category and can help participants meet their goals to boost their physical fitness, reduce chronic disease risk and elevate their quality of life. They perform initial assessments, develop personalised exercise programs and provide education to ensure participants are exercising safely, efficiently and appropriately.
If you have a disability that impacts your mobility or is affecting your health, an accredited exercise physiologist may be the best support provider for you. They can work with you to build a personalised program that will improve your strength, flexibility and fitness. They can also assist you to improve your diet and nutrition, if needed.
Working with an Exercise Physiologist is also great for your mental health. Regular physical activity releases endorphins, which helps to lift your mood and relieves stress. It can also promote a sense of accomplishment as you achieve your physical goals and build confidence in your abilities.
If you would like to learn more about how an Exercise Physiologist could be the perfect support for you. You can use our online NDIS Provider Directory to search for allied health providers and exercise physiologists in your area.
Improved Daily Living Skills
Royal Rehab LifeWorks Cairns can help you achieve many of your NDIS goals, including capacity building. They can also support your health and wellbeing by improving cardiovascular strength, muscle flexibility and helping to manage conditions such as diabetes and obesity.
In addition, EP's are qualified to provide behavioural change counselling and can assist with managing side effects of medication. They can also develop tailored exercise programs that offset weight-related side effects of medication and help to address behavioural issues such as poor diet choices.
NDIS participants can access the services of an Exercise Physiologist with funding from their Improved Daily Living budget category. This includes assessment, therapy sessions, home exercise programs, equipment prescription and group exercise.
Increased Independence
Royal Rehab LifeWorks Cairns deliver supports within the 'Improved Health and Wellbeing' and 'Improved Daily Living' categories of participant plans. This includes assessments, therapy sessions, exercise programs, training of family and support workers and the prescription of exercise equipment.
For people with a disability, it can be hard to get enough exercise and maintain a healthy lifestyle without the guidance of a specialist. Exercise physiologists for NDIS provide a personalised approach to physical wellbeing, with a focus on building strength and improving balance, coordination, fitness, posture, flexibility, and energy levels. They also help to reduce pain and improve the function of the musculoskeletal system through specific exercises to manage chronic conditions.
Aside from the obvious physical benefits, regular exercise helps to lift mood, release endorphins (natural mood elevators) and boost confidence. In addition to this, group exercise programs encourage social interaction, which can combat feelings of loneliness and isolation.
EP's are trained to work with individuals who have a disability and can create safe and accessible exercise programs that are tailored to their needs. They can also work with other members of a participant's support network to make sure that exercise goals are achievable and that participants understand the importance of continuing their program on a long-term basis. This will ultimately lead to better health and independence over time.
Better Mental Health
In addition to physical benefits, exercise physiologists for NDIS participants can also improve mental health. Research shows that regular exercise helps to relieve stress, boosts energy levels and releases powerful endorphins which can help improve mood and self-esteem.
NDIS exercise physiologist Cairns has specialized knowledge of medical conditions, injuries and disabilities. They are also trained to take into consideration a client's age, fitness level and chronic health conditions when developing an exercise program. Can deliver support under the Improved Health & Wellbeing and Capacity Building categories of a participant plan.
Royal Rehab LifeWorks Cairns can provide individualised treatment and rehabilitation for a range of conditions including autism, cerebral palsy, muscular dystrophy, amputation, down syndrome, vision/hearing impairment and parkinson's disease. We are happy to work with your other supports, including Occupational Therapists and Physiotherapists to ensure the best outcomes for your health and wellbeing.